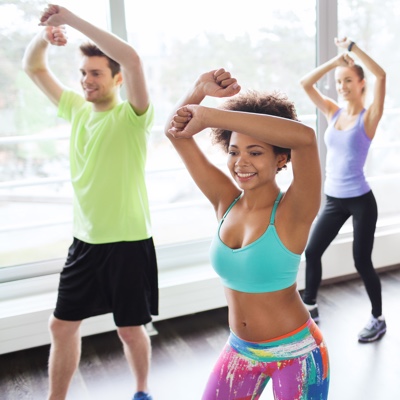 This workout's
for you if...
gym equipment intimidates you.
accountability helps keep you motivated.
a personal trainer is not in your budget.
you value the fun factor over everything else.
Aerobics/Dance
The Basics
Go ahead, strike a pose. You'll want to when you find out how good for you this super fun pastime is, especially since it's one that fits all expertise levels. Dance class fanatics—like those who choose hip-hop, belly dancing or Zumba—will tell you what a blast they have and how energetic classes are. It's that high energy that keeps your heart rate up to burn calories and improve your cardiovascular endurance. "Aerobic and dance classes provide wonderful health benefits," says Jeremy Ray of the Baptist Health Fitness Center. "There'll be improvements in the strength of the heart, arteries, veins and the entire cardiovascular system, making the body a more efficient machine. Also, you'll see increases in muscle mass and ligament and tendon strength (which helps provide durability), as well as enhancements in the body's ability to burn fat, recover and—last but not least—reduce stress." Toned muscles and stronger bones are another perk, as well as a rise in good cholesterol and drop in bad cholesterol. Bonus? These physical improvements will reduce much of your joint pain and stiffness, as well as any post-exercise aches or soreness.

Common aerobic classes like Cardio Sculpt, Body Pump, step, water and boot camps offer the same physical payoffs as dance, as well as the same fast pace. They include quick sets, which are constantly changing activities to keep you interested and coming back for more. One of the best parts of these classes is undoubtedly the group setting. Not only do classes give you a chance to meet new friends with common interests, but they offer accountability, keeping you more likely to show up and challenge yourself week after week. Plus, having your instructor nearby will help ensure you use proper form so that you avoid injury and get the most from each move.

"Aerobics provides an opportunity to escape the world alongside someone else chasing the same goal: to be happy and healthy," Ray says.
The Gear
Moisture-wicking clothes
Proper shoes
The Lingo
Plié (plee-AY): Bending your knees
Eight count: In choreography, movements in sets of eight counts, or beats in the music
Half-time: Slowing the music down to half its original speed
Tuck: Squeezing your abs and pulling your hips forward, flattening the arch in your back and elongating your tailbone
Resources
AEROBICS CLASSES
STEP, HIIT, ZUMBA, CARDIO SCULPT, BOOT CAMP, INSANITY, BODY PUMP & MORE
Conway Regional Health & Fitness Center
Conway
D1 Little Rock
Little Rock
Downtown Athletic Club
Little Rock
Fit Factory Little Rock
Little Rock
Health & Fitness in the Heights
Two Little Rock locations
Jim Dailey Fitness & Aquatic Center
Little Rock
Little Rock Athletic Club
Little Rock
Little Rock Racquet Club
Little Rock
McClure Fitness
Benton
North Little Rock Athletic Club
North Little Rock
ZenStudio Fitness Boutique
Two Little Rock locations
DANCE CLASSES
Balance Body & Sole
Cabot
Ballroom Dance
Irby Studio of Dance
Little Rock, Conway & Morrilton
Adult Tap
Jazzercise
Little Rock
Dance Mixx, Fusion, Strike, Core, Strength, Interval
Jazzercise Conway Fitness Center
Conway
Dance Mixx, Interval, Strike, Fusion, Strength & Core
Rock City Dance Center
Little Rock
Ballet, BalletFit, Hip Hop, Tap
The Time
45-60
minutes
The Burn
350-850
calories per 45-minute class
*Average sourced from Harvard Medical School