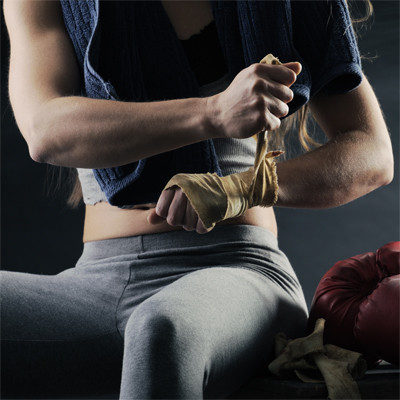 This workout's
for you if...
you want to learn self-defense.
you want the benefits of strength training without the strain of weights.
you need to let off some steam.
you prefer to work out with others.
Boxing/Martial Arts
The Basics
THE TYPES

These are among the most popular options you can choose from...

Aikido
Boxing
Chun Kuk Do
Karate
Kenpo
Kickboxing
Krav Maga
Jiu-Jitsu (Brazilian)
Judo
Mixed martial arts
Muay Thai
Taekwondo
Wrestling

It's no secret working out is a natural mood booster, however, there's something to be said about the stress relief you get from hitting a punching bag. And if you can get in high-intensity interval training that burns tons of fat at the same time, how can you say no?

Stronger bones and ligaments come with the resistance training, which you get plenty of with boxing. The high repetition of fast punches also develop lean and defined muscles without all the bulk. But it's not just about the upper body strength, you also build core stability, speed, power and coordination.

All exercises require a certain level of mental engagement, but it plays a pivotal role in martial arts. Beyond punching and kicking, the spotlight is on stillness, focus and learning about your body each step of the way.
The Lingo
Bout
Another name for a fight or match
Combination
A series of punches back to back with no break in between
Orthodox
A right-handed fighter Southpaw: A left-handed fighter
Southpaw
A left-handed fighter



Resources
BOXING/MARTIAL ARTS CLASSES
A Kick Above Personal Training Studio
Little Rock
Classes: Boxing (Early Morning, Late Evening)

Alliance Jiu Jitsu of Arkansas
North Little Rock
Classes: Kickboxing, MMA, Brazilian Jiu Jitsu
Balance Body & Sole
Cabot
Classes: Tai Chi
Bryant Martial Arts at Bishop Park
(501) 612-9668, Bryant
Classes: Taekwondo, Private Instruction, Self-Defense Classes, Adult and Children's Classes
The Center of Bryant at Bishop Park
Bryant
Classes: Karate
Club FIT
Little Rock
Classes: Kickboxing

Clubhaus Fitness
Little Rock
Classes: Krav Maga, private Instruction with former MMA figher David Shropshire

Fit Factory Little Rock
Little Rock
Classes: Boxing, Kickboxing, H.I.I.T Kickboxing

Grandmaster Hans Martial Arts of Central Arkansas
Conway, Bryant, Sherwood, Lonoke
Classes: Kickboxing, Taekwondo, Private Instruction, Early Morning, Gracie Jiu-Jitsu

Health & Fitness in the Heights
Little Rock
Classes: Kickboxing

Jazzercise
Little Rock
Classes: Kickboxing

Jim Dailey Fitness & Aquatic Center
Little Rock
Classes: Kickboxing, Punching bag and speed bag available on first come basis

Little Rock Athletic Club
Little Rock
Classes: Kickboxing, Turbo Kick, Tai Chi

Little Rock Racquet Club
Little Rock
Classes: Tai Chi

McClure Fitness
Benton & Little Rock
Classes: Kickboxing

North Little Rock Athletic Club
North Little Rock
Classes: Tai Chi

Rock City Mixed Martial Arts
Little Rock
Classes: MMA, Brazilian Jiujitsu

Southern School of Martial Arts
Bryant
Classes: Taekwondo, Private Instruction, Late Evening

Straightright Boxing & Fitness
Little Rock
Classes: Boxing, Private Instruction, Early Morning, Late Evening, Non-contact and contact boxing instruction offered

Unity Martial Arts
Little Rock
Classes: Kickboxing, MMA, Cuong Nhu, and Tai Chi
The Time
45- 60
minutes
The Burn
450-900
calories per 60-minute class
*Average sourced from Harvard Medical School