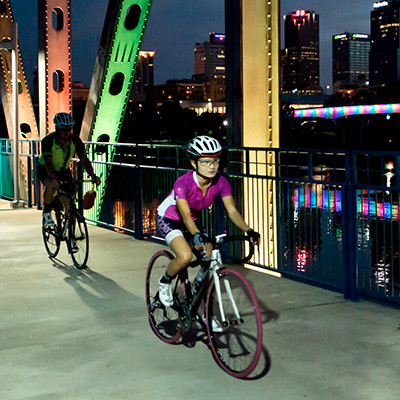 This workout's
for you if...
you're looking for a strong community of enthusiasts.
you want to protect your joints.
you love getting outdoors.
Cycling
The Basics
Yes, a big selling point for cycling is that it's easy on the joints, but just a change in speed, altitude or distance can build your aerobic threshold, strength and endurance. Cycling also provides riders with stronger bones, a metabolism boost and increased flexibility and coordination.

But it's not just about the miles. Getting outdoors provides a sunny dose of some much-needed vitamin D that can improve bone health, muscle function and immune and nervous systems. It also resyncs your circadian rhythm, meaning better sleep at night when your body needs to repair.
The Gear
Bike
Helmet
Cycling shoes
Gloves
Fitted, moisture-wicking clothes
The Lingo
Cadence
The number of pedal strikes per minute, also known as revolutions per minute or RPM
Hammer
To pedal hard in big gears with the greatest resistance
Granny
The lowest gear, typically used for climbing steep terrain
Bonk
State of exhaustion caused by dehydration or lack of fuel; similar to "the wall" for runners
Resources
CYCLING EVENTS
Little Rock Gran Fondo
Gran fondo is Italian for "big ride," and ride this is exactly that, offering approximately 70 miles of premium Arkansas courses and scenery, or 40 miles if you opt for the Medio. And when it's all over, hang around for the downtown block party afterwards.
Big Dam Bridge 100
This ride is just what it sounds like: a 100-mile course (or 10, 32, 50 or 68 miles, if you so choose) stretching across central Arkansas and, of course, the Big Dam Bridge.
Bike MS: Rock'n Hot Ride
Hosted by the National Multiple Sclerosis Society, this two-day, 126-mile journey takes riders from North Little Rock to an overnight stay in Hot Springs Village, then back to North Little Rock. Proceeds from the ride go toward MS research.
CYCLING RETAILERS
Angry Dave's Bicycles
North Little Rock
Products offered: Road Bikes, Mountain Bikes, Cycling Clothing & Gear, Outdoor Recreation Clothing & Gear, Indoor Cycling Shoes, Clothing & Gear, Fitness Technology, Health Supplements
Arkansas Cycling & Fitness
Little Rock & Sherwood
Products offered: Road Bikes, Mountain Bikes, Cycling Clothing & Gear, Indoor Cycling Shoes, Clothing & Gear
Chainwheel
Little Rock
Products offered: Road Bikes, Mountain Bikes, Cycling Clothing & Gear, Indoor Cycling Shoes, Clothing & Gear, Health Supplements
Giant Bicycles of Little Rock
Little Rock
Products offered: Road Bikes, Mountain Bikes, Cycling Clothing & Gear, Indoor Cycling Shoes, Clothing & Gear
The Meteor
Little Rock
Products offered: Road Bikes, Mountain Bikes, Cycling Clothing & Gear, Outdoor Recreation Clothing & Gear, Indoor Cycling Shoes, Clothing & Gear, Fitness Technology, Health Supplements, Eyewear
Trek Bicycle Store
(501) 499-6221, Conway
Products offered: Road Bikes, Mountain Bikes, Cycling Clothing & Gear, Indoor Cycling Shoes, Clothing & Gear, Health Supplements
LOCAL TRAIL RESOURCES
The Time
60
minutes
The Burn
250-900
per 60-minute ride
*Average sourced from Harvard Medical School