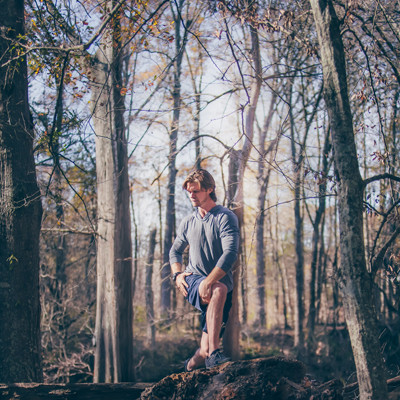 This workout's
for you if...
you enjoy challenging yourself one-on-one.
you seek adventure (or an adrenaline rush).
you don't mind (or prefer to be around) wildlife.
you like puzzles.
Hiking/Rock Climbing
The Basics
Living in "The Natural State" affords those drawn outside to do their workouts a beautiful backdrop, and central Arkansas' moderate climate allows hikers and outdoor rock climbers the chance to get their fill year-round—plus each trek can be as unique as the last.

If you're considering a move from the gym to the Great Outdoors, it's important to know that you can get just as good of a workout hiking and rock climbing. Get ready for improved cardiorespiratory health, affecting your lungs, heart and blood vessels and fighting off diseases. Muscle strength and bone density also get a boost while your body slims and tones at the same time.

Rock climbing (indoor and outdoor) holds the perk of being very low impact on your joints, a major plus for those with recurring issues. Surprisingly, however, hiking is fairly low impact as well. The speed and varying terrain make all the difference in comparing hiking to a jog around the neighborhood on asphalt. Whether rock climbing or hiking, both provide an excellent aerobic workout. "Rock climbing is an amazing full body workout," says Logan Wilcoxson of the Little Rock Climbing Center. "It's not upper body strength that gets you up the wall; it's legs that push you up, core strength that keeps your body tight to the wall and grip strength to help you hold on. It's also a great cardio workout that can really get your heart pumping."

One of the most unique offerings of these workouts is their puzzle-like quality. Each trail and rock wall has to be planned and visualized before action, which requires patience and problem-solving abilities that help build new neural pathways. "The challenge of getting to the top involves great mental gymnastics as the climber attempts to position his body [and] take advantage of the terrain," Wilcoxson says.

So maybe you don't hike quite as far or climb quite as high as you were expecting on any given day. It's no big deal; just being outside is good for you. Your mood and brain get all sorts of boosts, including in the memory and creativity departments. Just make sure you don't skimp on the SPF.
The Gear
Proper shoes
Ropes/harness
Chalk
First-aid kit (just in case!)
GPS or cell phone
The Lingo
Nobo/Sobo: Northbounder or southbounder
Bushwhack: Hiking where there is no marked trail
Blaze: To indicate the trail route by marking a tree, rock, sign, etc.
Belay: System used to keep a climber from falling too far/fast by using friction on the rope
Solo: To climb alone without any protection ... yikes
Resources
INDOOR CLIMBING
Little Rock Climbing Center
Classes: Indoor Rock Climbing, Outdoor Guided Trips, Yoga
Details: The Little Rock Climbing Center is the premier climbing gym in central Arkansas. Featuring 30-foot climbing walls, 10 auto-belays, 20 top-rope stations, lead climbing and bouldering in a climate-controlled facility. Day use and memberships available, as well as birthday parties, field trips, corporate training/outings and more.
GEAR
Gearhead Outfitters
Three Little Rock locations
Products offered: Outdoor Recreation Clothing & Gear, Yoga Clothing & Gear, Running/Athletic Shoes
Little Rock Climbing Center
(full description above)
Products offered: Climbing Equipment Sales
Ozark Outdoor Supply
Little Rock
Products offered: Outdoor Recreation Clothing & Gear, Running Clothing & Gear, Yoga Clothing & Gear, Running/Athletic Shoes, Cycling Clothing & Gear
LOCAL TRAILS RESOURCES
The Time
As long as you want
The Burn
360-700
per 60-minute hike/climb
*Average sourced from Harvard Medical School