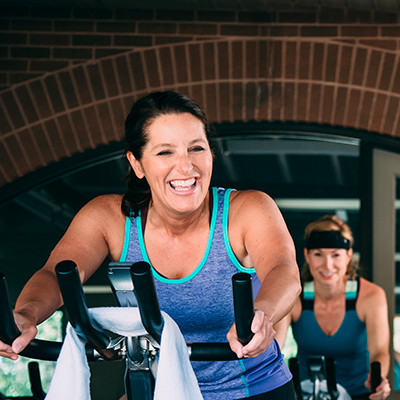 This workout's
for you if...
time is of the essence.
you like working out to music.
your knees (or hips, or ankles) need a break.
Indoor Cycling
The Basics
Looking for a lively way to get a great cardiovascular workout and burn calories? Indoor cycling is a low-impact exercise, meaning it's easier on your joints, but a high-intensity one, meaning it's great for weight loss.

Indoor cycling lets you work as hard as you want; the payoff being proportionate to your intensity level. While your legs get the bulk of the muscle tone (especially your hamstrings), the lower back, arms and pectoral muscles feel the love, too. Other benefits include blasting fat, increasing muscular endurance, improving posture and improved cardiovascular health.

Group classes are fast-paced and the social setting often acts as a motivational tool. Some classes even offer themed rides to give cyclists a change of pace and keep them coming back for more.

Check out the Fit Arkansas Cycling Playlist below. Target BPMs vary for each cyclist, but these hits will keep your heart pumping and a smile on your face.
The Gear
Wear: Leave the track shorts at home. You'll want fitted, moisture-wicking clothes for this workout.
Pack: Cardio is king at indoor cycling, so you're definitely going to sweat. Bring a towel or a change of clothes.
H20: Hydration is key, but so is keeping your balance. Opt for a water bottle with a narrow lid that you can manage easily in stride.
Shoes: Some bikes require nothing but your sneakers, while some require clip-in shoes, usually provided for riders. Check with your gym and show up prepared to crush it.
The Lingo
First, second and third position
Where to hold the handlebars per choreography
Jumps
Quickly rising up from the seat and sitting down again
Run it out
A command to rise out of the saddle into a standing position, which simulates running in place
Tap it back
A command to lunge forward and back out of the saddle, activating your core, to the beat of the music
Resources
INDOOR CYCLING CLASSES
10 Fitness
Multiple locations
Bikes: Optional clip-in
Club FIT
Little Rock
Class types: Spinning-certified
Bikes: Optional clip-in
Clubhaus Fitness
Little Rock
Class types: Themed-rides, Blacklight, Late Evening, Early Morning
Bikes: Optional clip-in
Conway Regional Health & Fitness Center
Two locations in Conway
Class types: Themed-rides, Late Evening, Early Morning, Spinning-certified, Express Formats (30 minutes)
Bikes: Optional clip-in
Downtown Athletic Club
Little Rock
Cycling Certified Instructors
Class types: Group RYDE, Performance RYDE, Rhythm RYDE, Themed-rides, Private Instruction
Bikes: Optional clip-in, Display console on bikes
Fit Factory Little Rock
Little Rock
Bikes: Display console on bikes
IM=X Pilates
Little Rock
Class types: Themed-rides, Early Morning, Spinning-certified
Bikes: No clip-in, Display console on bikes
Jim Dailey Fitness & Aquatic Center
Little Rock
Little Rock Athletic Club
Little Rock
Cycling Certified Instructors
Class types: Group RYDE, Performance RYDE, Rhythm RYDE, SPIVI Smart Training System, Themed-rides, Private Instruction
Bikes: Optional clip-in, Display console on bikes
Little Rock Racquet Club
Little Rock
Cycling Certified Instructors
Class types: Group RYDE, Performance RYDE, Rhythm RYDE, Themed-rides, Private Instruction
Bikes: Optional clip-in, Display console on bikes
McClure Fitness
Benton & Little Rock
Class types: Hot, Themed-rides, Late Evening, Early Morning
Bikes: No clip-in
North Little Rock Athletic Club
North Little Rock
Cycling Certified Instructors
Class types: Group RYDE, Performance RYDE, Rhythm RYDE, Themed-rides, Private Instruction
Bikes: Optional clip-in, Display console on bikes
ZenStudio Fitness Boutique
Two locations in Little Rock
Schwinn/Spinning certified instructors
Class types: Themed-rides, Private Instruction, Late Evening, Early Morning, Rhythmic Cycling
Bikes: Clip-in required, Shoes Provided
The Time
45
minutes
The Burn
400-600
calories per 45-minute class
*Average sourced from Spinning.com