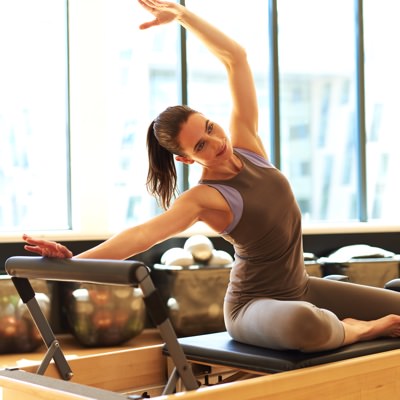 This workout's
for you if...
you want to improve flexibility.
you prefer a relaxing setting.
you want something you can do on a lunch break.
you prefer small class sizes.
Pilates
The Basics
If you're looking to strengthen your core, look no further than Pilates. There's a reason you've seen an explosion in Pilates' popularity over the past few years, and it's all tied to the low-impact, concentration-based, resistance- training methods of this full-body workout that's good for all expertise levels.

Pilates combines a series of movements that target your back muscles, obliques, gluteals, thighs and lower and upper abs, while improving your flexibility, balance and posture at the same time. These exercises also help in the prevention and relief of arthritis and lower back pain, and can be great for people with desk jobs.

Pilates classes range from simply a room full of participants on exercise mats to use of specialized equipment and machines, but one thing remains the same across the board: Your body weight is what gets the job done. There's no need for free weights or dumbbells. Each movement is designed to use what you already have to build strength and tone your muscles.

Most "classes are kept small so that each client gets the personal attention required," says Melissa Burkett, owner of IMX Pilates & Fitness in Little Rock. "You will often find a professional athlete and an older client with limitations in the same class, and both getting an equally challenging workout. Many people not only transform their bodies, but rid themselves completely from any back pain."

In-class instructor supervision plays a large part in the efficiency of these exercises. Professionals are trained in the essential Pilates techniques and are able to spot any deviations in form. Even a slight adjustment can make the move more effective and keep you from injury.

Because Pilates is anaerobic, you'll want to add some cardio to your overall fitness regimen. But don't be fooled: If done correctly, these exercises will leave you sweaty and sore—but in the best way.
The Gear
Exercise mat
Fitted, moisture-wicking clothes
The Lingo
Powerhouse: The main stabilizing muscles that protect your spine (abdominals, back, hip and shoulder girdle)
Neutral pelvis: When your front hip bones are level with your pubic bone, no tilt in the pelvis
Slide the shoulders down the back: To roll your shoulders back and away from your ears
Scoop out the abdominals: Pulling the abs toward the spine as you exhale
Zip up: Actively squeezing or drawing in, often in reference to abs, thighs, etc.
Resources
PILATES STUDIOS
IM=X Pilates
Little Rock
Class types: Power, Prenatal, Early Morning, Late Evening, Private, Maximum of eight reformers per class and up to six classes per day
Equipment provided: Yes
Reformer machines: Yes
PILATES CLASSES OR EQUIPMENT
Clubhaus Fitness
Little Rock
Class types: Classical, Power, Early Morning, Late Evening, Private
Equipment provided: Yes
Reformer machines: Yes
Conway Regional Health & Fitness Center
Two Conway locations
Equipment provided: Yes
Reformer machines: No
Fit Factory Little Rock
Little Rock
No Pilates classes offered; equipment only
Equipment provided: Yes
Reformer machines: Yes
Health & Fitness in the Heights
Two Little Rock locations
Class types: Early Morning, Late Evening, Private, Small-group instruction
Equipment provided: Yes
Reformer machines: Yes
Jim Dailey Fitness & Aquatic Center
Little Rock
Class types: Classical
Equipment provided: Yes
Reformer machines: No
Little Rock Athletic Club
Little Rock
Class types: Classical
Equipment provided: Yes
Reformer machines: Yes
Orlando's Personal Fitness
Little Rock
Class types: Private
Equipment provided: Yes
Reformer machines: Yes
ZenStudio Fitness Boutique
Two Little Rock locations
Class types: Classical, Private
Equipment provided: Yes
Reformer machines: Yes
The Time
45-60
minutes
The Burn
200-500
calories per 45-minute class
*Average sourced from Harvard Medical School