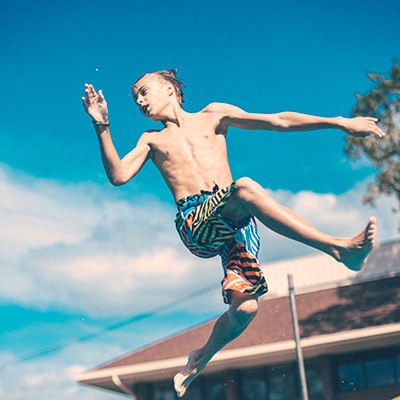 This workout's
for you if...
you have bad joints of stiff muscles.
you want to build endurance.
you're looking to improve your breathing.
Swimming
The Basics
If you have chronic injuries, look no further. A bum knee, creaky joints or stiff back are not an excuse to skip a workout when you've got water nearby. With virtually no impact, swimming tones and builds lean muscles in that every move you make has to be done through a substance that's much thicker than air, giving you full-body resistance training.

Swimming taxes the cardiovascular system and uses almost every major muscle group while also improving posture, coordination and balance. As an added bonus, it not only builds muscles, but also stretches them, making you more flexible and helping you work out any stiffness or soreness.

But swimming does more than just work muscles and whittle the waistline — it can also be a game changer for those with asthma. It helps reduce exercise- induced symptoms and can even improve overall lung performance and strength over time.

BONUS

Swimming at your gym's temperature-regulated pool means you never have to worry about the weather. You're set all year round!
The Lingo
Breaststroke
Arms move simultaneously under the water horizontally, with legs doing a frog kick
Butterfly
Legs move up and down together while arms move in an up-and-over motion together
Freestyle
No real set technique, but is also known as the front crawl
Resources
THE POOLS
The Center of Bryant at Bishop Park
Bryant
Amenities offered: Restrooms, Shower, Individual Lockers with keys/codes, Locker Room, Child Care, Water Fountain/Complimentary Water, Wi-Fi
Pool types: Indoor, Heated
Swimming classes: Private, Group Lessons

Conway Regional Health & Fitness Center
Two locations in Conway
Amenities offered: Restrooms, Shower, Individual Lockers with keys/codes, Locker Room, Child Care, Classes for Kids, Classes for Ages 50+, Kids Room, Towels, Water Fountain/Complimentary Water, Sauna, Apparel Sales, Wi-Fi
Pool types: Indoor, Heated
Swimming classes: Private, Group Lessons

Jim Dailey Fitness & Aquatic Center
Little Rock
Amenities offered: Restrooms, Shower, Locker Room, Concessions, Water Fountain/Complimentary Water, Sauna, Wi-Fi
Pool types: Indoor, Outdoor, Heated
Swimming classes: Private, Group Lessons

Little Rock Athletic Club
Little Rock
Amenities offered: Restrooms, Shower, Individual Lockers with keys/codes, Locker Room, Child Care, Kids Room, Concessions, Towels, Water Fountain/Complimentary Water, Sauna, Apparel Sales, Wi-Fi
Pool types: Indoor, Outdoor, Heated
Swimming classes: Private, Group Lessons

Little Rock Racquet Club
Little Rock
Amenities offered: Restrooms, Shower, Individual Lockers with keys/codes, Locker Room, Child Care, Kids Room, Concessions, Towels, Water Fountain/Complimentary Water, Apparel Sales, Wi-Fi
Pool types: Indoor, Outdoor, Heated
Swimming classes: Group Lessons

North Little Rock Athletic Club
North Little Rock
Amenities offered: Restrooms, Shower, Individual Lockers with keys/codes, Locker Room, Child Care, Kids Room, Towels, Water Fountain/Complimentary Water
Pool types: Indoor, Outdoor, Heated
Swimming classes: Private, Group Lessons
The Time
40- 60
minutes
The Burn
475-975
calories per 60-minutes
*Average sourced from Harvard Medical School