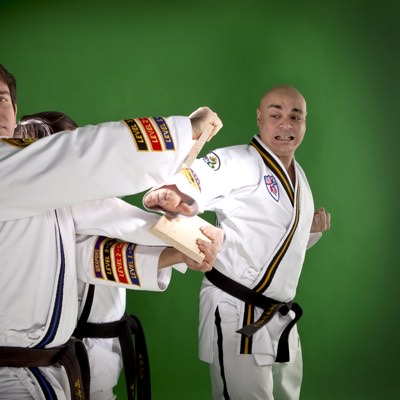 This workout's
for you if...
learn how to show respect.
boost their confidence and self-esteem.
practice self-control and discipline.
learn to set and work toward goals.
stay active and fit.
learn self-defense and bully prevention skills.
Taekwondo
The Basics
THE PAYOFF

Stronger core
Increased flexibility
More endurance
Improved cardio
Increased speed
More strength

If you're looking for a fitness routine that will not only work your body, but tune your mind as well, Taekwondo is a great choice. This Korean art of self-defense is more than 2,000 years old and widely respected for its rich traditions, fitness benefits and life skills learned during class. Chief Master Kathy Lee, owner and eighth-degree black belt of All Star Martial Arts with seven licensed ATA locations in Central Arkansas, describes it as a sport anyone, regardless of age or ability, can enjoy results. "One of the best things about ATA is that we provide an opportunity for everyone to take a class—from people who have special needs and 3-year-olds, all the way up to [90 years-plus]," she says. "We also pride ourselves in being one of the few things out there where families can work out together— train together. Children and adults can even be in the same class together."

Of course, others might find private instruction or group classes arranged by age and skill level to be more their speed, and that's the point. Taekwondo is concerned with getting each individual "student" what they need.

Parents are often drawn in by the promise of their children learning discipline, confidence and respect. The allure of attaining a black belt attracts others, and some adult women initiate training to learn self-defense. This is why memberships are varied and geared to your goals. "Whatever your reason for coming is, we sit down and figure out the best goal for you," says Senior Master Sean Smith, instructor and seventh- degree black belt at All Star Martial Arts. "Your goals will determine the length of membership or number of classes you'll need to sign up for." Each new member gets a personal analysis; instructors evaluate the student during the first class and follow up with feedback afterward.

The individualized attention, camaraderie, and combined physical and mental benefit is why for many, Taekwondo becomes a permanent fixture in their lives.
The Gear
Dobok provided
Safety gear provided (head, hands, feet and chest guards)
Protech Weapons provided
The Lingo
Forms: A series of set moves designed to show a progression of martial arts techniques
Belts: Indicate levels of achievement Partners: There are no "opponents" in ATA Taekwondo, only "partners" that help you train.
Spar: This is not "fighting" but a way to demonstrate technique and control.
Tag: There are no "hits." Proper tags score you points.
Resources
All Star Martial Arts
THE LICENSED LOCATIONS
NORTH LITTLE ROCK
5501 JFK Blvd. (501) 753-6100
WEST LITTLE ROCK
1101 S. Bowman Rd., Little Rock (501) 224-1234
HIGHWAY 10
14300 Cantrell Rd., Little Rock (501) 868-1122
BRYANT
2900 Horizon Dr. (501) 847-4441
MAUMELLE
11601 Maumelle Blvd., North Little Rock (501) 753-3335
CABOT
1198 S. Pine St., (501) 843-8543
CONWAY
705 Club Lane (501) 327-5425
The Time
30-60
minutes
The Burn
Up to
800
calories