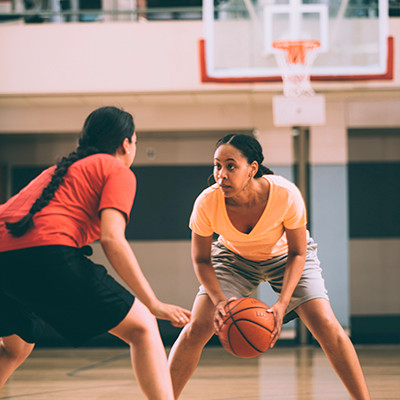 This workout's
for you if...
you hate working out in a gym.
competition is a motivator for you.
you want to make new friends.
having fun is your No. 1 goal (if you burn a few calories, great)
Team Sports
The Basics
Take your crew out to the kickball game with organized adult team sports in throughout the Little Rock metro. You can get in on soccer, volleyball, softball, basketball, flag football, kickball and even an annual dodgeball tournament.

The games are familiar enough — the same you played all those years ago in P.E. — and there's a spot for everyone. You can expect same-sex and co-ed teams with players of all adult ages, meaning you could find yourself squaring off against a colleague or an old college roommate.

When selecting a team sport program, it is important to pay attention to the relative skill level to which the league is geared. Some programs break out competitive from recreational to give you some idea of who you'll be competing against — but not always. Make the wrong choice and you could find yourself in hot water with your teammates.
Resources
ADULT LEAGUES/CLUBS
Arkansas State Soccer Association
Sherwood
Sports: Soccer

Arkansas Tennis Association
Little Rock
Sports: Tennis

Carousel Fit 4 Life Wellness Center
North Little Rock
Sports: Running and Walking Club

D1 Little Rock
Little Rock
Sports: Soccer League, Baseball League, Flag Football

Little Rock Athletic Club
Little Rock
Sports: Tennis, Swimming

Little Rock Climbing Center
Little Rock
Sports: Bouldering

Little Rock Racquet Club
Little Rock
Sports: Tennis, Swimming

Rebsamen Tennis Center
(501) 664-0736, Little Rock
Sports: Tennis

Rock City Rowing
Little Rock
Sports: Adult and Youth Rowing Teams, Intro Classes, Private and Small Group Lessons


CITY LEAGUES
Conway Parks & Recreation
Offers summer and fall softball, kickball, volleyball and basketball. All meetings are held at 7 p.m. at the McGee Center, 3800 College Ave. (Visit website for individual program's meeting date.) Registration runs $200 to $450 per team.

Little Rock Parks & Recreation
Offers men's 30-over spring basketball, men's open summer basketball, men's open fall basketball, women's open fall basketball, co-ed open spring volleyball, men's open spring/summer softball, men's 30-over spring/summer softball, women's open spring/summer softball, co-ed division spring/summer softball, men's open fall softball and co-ed division fall softball. Adult softball costs $450 per team.

Maumelle Parks & Recreation
Offers men's softball, co-ed softball, adult basketball (broken into upper flight, middle flight and lower flight divisions) and men's flag football. Costs range from $325 to $490 per team for Maumelle residents; non-resident teams are $50 more.

North Little Rock Parks & Recreation
Softball (North Little Rock Softball Association),
Basketball (North Little Rock Community Center),
Cricket (Central Arkansas Tennisball Cricketers Hub),
Bicycle Motocross (Bonzai BMX),
Soccer (Arkansas Central Soccer Association),
Tennis (Burns Park Tennis Center),
WaterSkiing (Arkansas Water Ski Club)

Little Rock Kickball Association
Little Rock's largest social sports organization, the LRKA has spring and fall seasons for men and women of all ages and athletic abilities. Co-ed teams play in the Competitive, Intermediate, Novice, and the notoriously fun Laidback League. Team costs range from $300 to $400 depending on how early you sign up; individuals can also sign up and get help finding new friends and a team to play on. Registration for the spring season begins Dec. 1 and the spring season will start March 11, 2018.
The Time
60+
minutes
The Burn
Softball (soft pitch): 300 calories/hour
Soccer: 600 calories/hour
Basketball (full-court): 700 calories/hour
Kickball: 400 calories/hour
Football: 500 calories/hour
* Based on 155-pound adult; averages sourced from SparkPeople.com