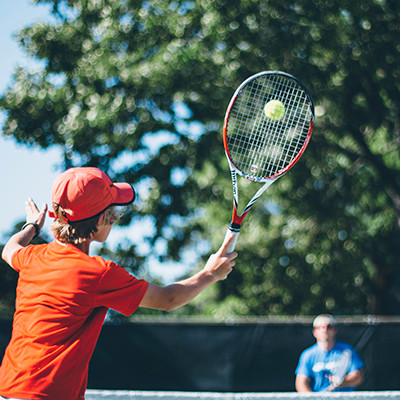 This workout's
for you if...
You want to combine many workouts into one.
You need someone to help push you.
You like to engage your mind while exercising.
Tennis
The Basics
Those who need a little competition to get the juices flowing may want to give tennis a try. With five-year-olds and 80-year-olds alike taking up the racket, anyone with access to a court and a partner (or a wall) can make this worldwide sport part of their fitness routine.

Swedish-born tennis legend Bjorn Borg famously called a tennis match "a thousand little sprints." The quick intervals of intensity and rest improve the efficiency of your muscles' use of oxygen, while the energy and cardiovascular boost helps burn fat and stave off heart attacks, strokes and heart disease.

Tennis also has the unique appeal of rolling the perks of strength training, agility and tactical thinking into one package. Players can expect to develop enhanced speed, balance and agility, in addition to sharpened reflexes and cognitive ability.

BONUS

Forget the crossword puzzles. Studies show that playing tennis is tactical learning at its finest, meaning it's a major workout for your brain, too.
The Lingo
Love
Zero points
Deuce
When the score is tied 40 to 40
Fault
When the ball doesn't land inside the court
Foot fault
When a server's foot crosses the line while serving
Resources
TENNIS COURTS
Arkansas Tennis Association
Little Rock
Courts: Indoor and outdoor courts
Classes: Private and group lessons
The Center of Bryant at Bishop Park
Bryant
Courts: Outdoor courts
Jim Dailey Fitness & Aquatic Center
Little Rock
Courts: Outdoor courts
Little Rock Athletic Club
Little Rock
Courts: Indoor and outdoor courts
Classes: Private and group lessons
Little Rock Parks & Recreation
Little Rock
Parks with Tennis Courts: Allsopp, Benny Craig, Butler, Centennial, Dunbar, East Little Rock, Granite Heights, Hanger Hill, Hindman, Kanis, Meriwether, Morehart, Ottenheimer, Reservoir, Wakefield
Little Rock Racquet Club
Little Rock
Courts: Indoor and outdoor courts
Classes: Private and group lessons
North Little Rock Parks & Recreation
North Little Rock
Classes: Private and group lessons
Parks with Tennis Courts: Burns Park (six indoor, 17 lighted outdoor, seven unlighted outdoor), North Heights Community Center and Park (two outdoor), Sherman Park Community Center and Park (two outdoor), Rose City Park (two outdoor)
Rebsamen Tennis Center
(501) 664-0736, Little Rock
Courts: Outdoor courts
Classes: Private and group lessons
TENNIS RETAILERS
Little Rock Athletic Club
Little Rock
Products offered: Tennis and fitness clothing, shoes and gear
The Tennis Shoppe
Little Rock
Products offered: Tennis clothing and gear
The Time
1-2
hours per match
The Burn
420-620
calories per hour match
*Average sourced from Harvard Medical School