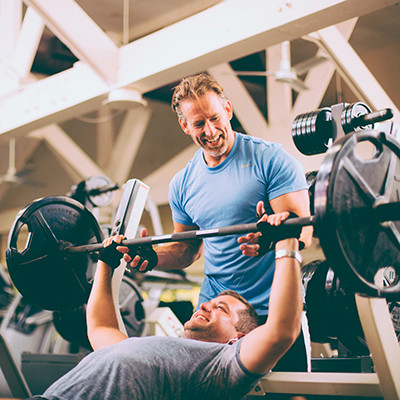 This workout's
for you if...
you prefer reps to timers.
you want muscle definition.
you feel a bit frail. Weight training actually prevents injury.
Weight Training
The Basics
Drop whatever preconceived notions you have about lifting weights. People of every size, shape and skill level can participate in and reap the benefits of weight training.

As you get older, muscle mass more quickly turns to fat, making weight training pivotal in keeping muscles lean and strong. These benefits also extend to strengthening bones and connecting muscles and tissue, which helps mobility and prevents injury.

These exercises are generally high intensity, but can be modified based on your goals. Experts suggest doing weight training sessions just two to three times a week to see results.

But playing it smart with weights is key. While you might be able to tell the difference between pushing yourself and overdoing it on some workouts, the chance for injury with weights is much more prevalent without the help of a trained professional.
The Gear
Free weights or weight machines
Medicine balls
Lifting gloves/braces (if you're hardcore)
The Lingo
Split Routine
Training specific muscle groups on certain days in order to have time to recover and rebuild (think: designating Mondays as leg days in a five-day split)
Progressions
Any sort of addition, such as resistance, weight, number of sets etc.
Resources
WEIGHT ROOMS
10 Fitness
Multiple locations
A Kick Above Personal Training Studio
Little Rock
Anytime Fitness
Conway, Little Rock, North Little Rock, Jacksonville, Greenbrier & Morrilton
Details: Free weights, machines
Arkansas Fitness & Athletics
Little Rock
Details: Functional strength training in a group fitness setting. Customized workouts that range from athletes to the everyday person.
Athletic Revolution Riverdale
Little Rock
Carousel Fit 4 Life Wellness Center
North Little Rock
Details: Personal training
The Center of Bryant at Bishop Park
Bryant
Details: Weight room
Club FIT
Little Rock
Details: Personal training or Fit Bootcamp
Clubhaus Fitness
Little Rock
Details: Free weights, PIN-select equipment, Kenesis I
Conway CrossFit
Conway
Conway Regional Health & Fitness Center
Two locations in Conway
CrossFit Align
North Little Rock
Details: Weightlifting clinics
CrossFit Legit
Benton
CrossFit Midpoint
Little Rock
Details: Olympic lifting, powerlifting
Custom Fit By Nicki
Sheridan
D1 Little Rock
Little Rock
Details: Olympic lifting, strength training, powerlifting
Downtown Athletic Club
Little Rock
FastFit
Little Rock
Details: Bodyweight training, kettlebell training, and barbell training all done in a 30-minute EXPRESS workout system
Fit Factory Little Rock
Little Rock
Details: Dumbbells, barbells, kettlebells, Weights 101 with Jeff
Functional Health and Fitness, LLC - David Houk, Physical Therapist
Little Rock
Health & Fitness in the Heights
Little Rock
Details: Full circuit, free weights up to 100 pounds
IM=X Pilates
Little Rock
Details: Weights incorporated in many of the Pilates & barre classes
Jazzercise
Little Rock
Jazzercise Conway Fitness Center
Conway
Jim Dailey Fitness & Aquatic Center
Little Rock
Little Rock Athletic Club
Little Rock
Details: Three different weight floors
Little Rock Racquet Club
Little Rock
McClure Fitness
Benton
Details: TRX strength training
North Little Rock Athletic Club
North Little Rock
Orangetheory Fitness
Two locations in Little Rock
Details: Extensive high intensity, low impact weight training with variations for restrictions
Orlando's Personal Fitness
Little Rock
Details: Kids fitness program, personal training
Proformance Sports Academy
Little Rock
Results by Tina Personal Training Studio
Little Rock
Details: Machines, kettlebells, free weights, TRX
Rock City Crossfit
North Little Rock
Details: Working mostly with Olympic lifts, but accessory work with other movements as well
Sherwood CrossFit
Sherwood
Details: Olympic weightlifting classes Saturdays at 10:30 a.m.
Snap Fitness
Little Rock
SparkFit
Little Rock
Unleashed Health & Fitness
Little Rock
Wellness Revolution Crossfit
Little Rock
Details: Powerlifting, olympic lifting
The Time
30 - 60
minutes
The Burn
180 - 260
calories per 60-minute class
*Average sourced from Harvard Medical School