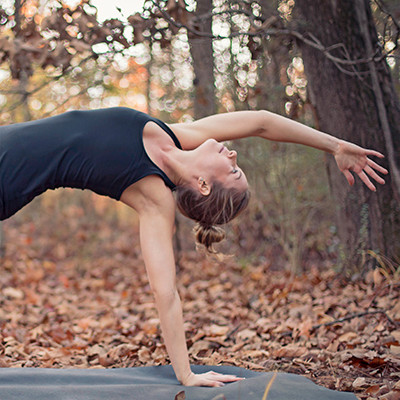 This workout's
for you if...
you need to reduce stress.
you'd like to be more flexible.
you're pregnant or have a medical condition.
you're looking to complement another workout.
Yoga
The Basics
As rejuvenating for the mind and soul as it is for the body, yoga — one of the oldest and most popular activities the world over — appeals to people of all ages, experience and fitness levels.

Not unlike martial arts, yoga joins your breath, mind and spirit through a series of poses and movements that flow into one another. The most well known style of yoga is slow and meditative, building strength and flexibility, but in fact, there are more than 100 types of yoga, some of which are fast-moving or in warmer setting, offering cardio and weight loss benefits.

Yoga practitioners also swear by the activity for its calming, restorative effects. Many turn to it as a part of physical therapy as it strengthens every muscle group in the body with practitioners working through progressively more challenging poses and movements.
The Gear
A yoga mat
Yoga blocks
Fitted clothes with stretch
The Lingo
Vinyasa
A series of poses that flow smoothly into one another
Savasana
Or "corpse pose," a relaxing pose at the end of your session where you simply lie on your mat and breathe deeply
Chakras
The seven energy centers within the body between the base of the spine and the top of the head
Resources
YOGA STUDIOS
Balance Body & Sole
Cabot
Classes:  Beginner, Intermediate, Advanced, Restorative, Private Classes, Thai Yoga Massage Therapy

Barefoot Studio
Little Rock
Classes:  Beginner, Intermediate, Advanced, Prenatal, Hot, Restorative, Early Morning, Late Evening, Private Classes, Yin, Kids Yoga, Yoga for Tweens

Big Rock Yoga
Two locations in Little Rock
Classes:  Beginner, Intermediate, Advanced, Hot, Restorative, Early Morning, Late Evening, Private Classe, 200 Hour Teacher Training and 500 Hour Teacher Training

Blue Yoga Nyla
North Little Rock
Classes:  Beginner, Intermediate, Advanced, Prenatal, Hot, Restorative, Late Evening, Private Classes

Cedar Rock Yoga
Conway
Classes:  Beginner, Intermediate, Restorative, Private Classes

The Floating Lotus Yoga Studio and Day Spa
Little Rock
Classes:  Beginner, Intermediate, Advanced, Restorative, Early Morning, Late Evening, Private Classe, Yoga Teacher Training 200 Hour Program, Runner's Yoga Workshop

Go Inside Yoga
Conway
Classes:  Beginner, Intermediate, Advanced, Hot, Private Classes, Yin, Gentle, Yoga Nidra, Iyengar

Yoga Studio of Little Rock
Little Rock
Classes:  Beginner, Intermediate, Advanced, Restorative, Early Morning, Late Evening, Private Classes, Iyengar Yoga
YOGA CLASSES
10 Fitness
Multiple locations
Classes: Beginner, Intermediate, Advanced (location specific)
A Kick Above Personal Training Studio
Little Rock
Carousel Fit 4 Life Wellness Center
North Little Rock
Classes:  Beginner, Intermediate, Private Classes, Group and one on one classes

The Center of Bryant at Bishop Park
Bryant
Classes: Piyo, Pilates and Yoga mix

Club FIT
Little Rock
Classes: Beginner, Intermediate, Advanced, Private
Clubhaus Fitness
Little Rock
Classes:  Beginner, Intermediate, Advanced, Hot, Restorative, Early Morning, Late Evening, Private Classes, Deep Stretch Yoga

Conway Regional Health & Fitness Center
Two locations in Conway
Classes:  Beginner, Intermediate, Restorative, Early Morning, Late Evening, Private Classes

CrossFit Align
North Little Rock
Classes:  All Levels, Private Classes

D1 Little Rock
Little Rock
Classes:  Beginner, Intermediate, Advanced, Restorative, Early Morning, Late Evening, Private Classes

Downtown Athletic Club
Little Rock
Classes:  Beginner, Intermediate

Fit Factory Little Rock
Little Rock
Classes:  Beginner, Intermediate, Early Morning

IM=X Pilates
Little Rock
Classes:  Beginner, Advanced, Weekend

Jim Dailey Fitness & Aquatic Center
Little Rock
Classes:  Beginner, Intermediate

Little Rock Athletic Club
Little Rock
Classes:  Beginner, Intermediate, Hot, Early Morning, Late Evening

Little Rock Climbing Center
Little Rock
Classes:  Beginner, Intermediate, Advanced, Late Evening

Little Rock Racquet Club
Little Rock
Classes:  Beginner, Intermediate

McClure Fitness
Benton
Classes:  Beginner, Intermediate, Advanced, Hot, Early Morning, Late Evening, Private Classes

North Little Rock Athletic Club
North Little Rock
Classes:  Beginner, Intermediate, Early Morning

Rock City Dance Center
Little Rock

Snap Fitness
Little Rock
Classes:  Beginner, Intermediate

SparkFit
Little Rock
Classes: Beginner, Intermediate, Advanced, Prenatal, Restorative, Private Classes, Evening classes Tue, Wed, Thur 6-7 p.m., Lunchtime classes Mon, Wed, Fri 11 a.m.-noon, Sat 11 a.m.-noon, Sun 10-11 a.m. and Joint Mobility 11:15 a.m.-noon.

ZenStudio Fitness Boutique
Two locations in Little Rock
Classes: Hot, Restorative, Early Morning, Late Evening, Private Classes
The Time
60- 90
minutes
The Burn
150-300
calories per 45-minute class
*Average sourced from Harvard Medical School